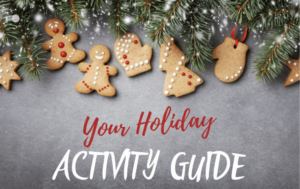 The most wonderful time of the year is finally here! To help you make the most of this magical season, we've put together a "Holiday Activity Guide" that's jam-packed with amazing light displays, festive happenings, and so much more! We're also sharing some helpful tips on how to spruce up your home decor and deck the halls in style this holiday season. Check out our Holiday Activity Guide and let the celebrations unfold!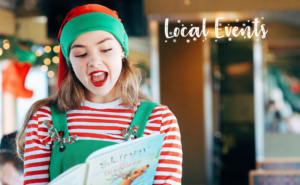 Looking for some holiday cheer? Make this season a magical one by attending one of the below holiday happenings! We've carefully curated this month's events into categories to ensure there's something for everyone, including holiday lights, ways to give back this season, family-friendly activities, festive food and drink celebrations, arts and theatre performances, and more!
Holiday Events & Happenings:
Holiday Lights –
Imaginarium – Light up the Night – Presented by Sacramento's Global Winter Wonderland
When: Open Now – January 7th (Select Days)
Where: Cal Expo Fairgrounds | 1600 Exposition Boulevard, Sacramento
What: Discover a world where fantasy meets reality at Imaginarium – Sacramento's largest Holiday Light Festival of the Year! Dive into a mesmerizing experience tailored for all ages. Wander through our radiant rose garden, or lose yourself in the infinite mirror rooms. Venture deeper into the enchanted forest and marvel at over 25 majestic, larger-than-life storybook creatures, each bathed in a cascade of lights. Take the kids to meet Santa followed by an evening on the ice with our very own Ice Skating Rink!
Learn More Here
Theatre of Lights in Old Sacramento
When: Now – December 30th (Select Days)
Where: Old Sacramento Waterfront District | 1014 2nd St #200, Sacramento
What: Located blocks from the renowned Golden 1 Center, the Old Sacramento Waterfront district transforms into a 19th-century winter wonderland. Watch the light show spectacular and unique retelling of the American classic "Twas the Night Before Christmas."
See The Complete Schedule Here
Check out our Neighborhood Lights Guide Below!
Arts/Theatre – 
Tis the Season Around the World – B Street Theatre
When: Now – December 24th (Select Days)
Where: B Street Theatre at the Sofia | 2700 Capital Avenue, Sacramento
What: B Street Theatre is back with 'TIS THE SEASON, this time focusing on kids from around the world and the different holiday traditions that they take part in. Based on the very first B Street Theatre Holiday comedy, join the fun and learn all about how different people enjoy the holidays in different parts of the world!
Get Your Tickets Here
Sacramento Ballet Presents – The Nutcracker with Sacramento Philharmonic
When: Now – December 23rd (Select Days)
Where: Safe Credit Union Performing Arts Center | 1301 L Street, Sacramento
What: Experience Nutcracker magic again — or for the first time! Bring everyone on your list to SacBallet's breathtaking, beloved, annual holiday tradition set to Tchaikovsky's acclaimed score performed by a live orchestra at every show. This year SacBallet presents its newest production of Nutcracker with 200+ local youth taking to the stage with the professionals, and choreography by Sacramento's own artists Colby Damon, Julia Feldman and Nicole Haskins.
Get Your Tickets Here
Capital Stage: Georgiana & Kitty: Christmas at Pemberley
When: Now through December 23rd (select days)
Where: Capital Stage | 2215 J Street, Sacramento
What: Georgiana Darcy is an accomplished pianist but wary of romance. Kitty Bennet is a bright-eyed optimist and a perfect best friend. These two younger sisters are ready for their own adventures in life and love, starting with the arrival of an admirer and secret correspondent. Meddlesome families and outmoded expectations won't stop these determined friends from forging their own way in a holiday tale filled with music, ambition, sisterhood, and forgiveness in the third and final play in the Christmas at Pemberley trilogy.
Purchase Your Tickets Here
King + Country "A Drummer Boy Christmas" at Golden 1 Center
When: December 10th
Where: Golden 1 Center | 500 David J Stern Walk Sacramento
What: Multi-GRAMMY® Award winning duo and Curb | Word Entertainment recording artist for KING + COUNTRY announces its "A DRUMMER BOY CHRISTMAS | THE 2023 TOUR EXPERIENCE," will be returning to Golden 1 Center in Sacramento, CA on December 10. The highly-anticipated annual holiday spectacle will feature an extraordinary production, blending festive visuals and stunning lighting and staging effects, for a high-octane show that the brother duo (made up of Joel and Luke Smallbone) have become known for.
Get Your Tickets Here
Broadway Sacramento – Dr. Seuss' How The Grinch Stole Christmas! The Musical 
When: December 27th – 31st 
Where: SAFE Credit Union Performing Arts Center | 1301 L Street, Sacramento
What: Dr. Seuss' How The Grinch Stole Christmas! The Musical is the record-setting Broadway holiday sensation which features the hit songs "You're A Mean One Mr. Grinch" and "Welcome Christmas" from the original animated special. Max the Dog narrates as the mean and scheming Grinch, whose heart is "two sizes too small," decides to steal Christmas away from the Holiday loving Whos. Magnificent sets and costumes inspired by Dr. Seuss' original illustrations help transport audiences to the whimsical world of Whoville and help remind us of the true meaning of the holiday season. Don't miss what The New York Times calls "AN EXTRAORDINARY PERFORMANCE! 100 times better than any bed time story."
Get Your Tickets Here
Family Fun – 
Downtown Sacramento Ice Rink
When: Open select days – Now until January 15th
Where: 701 K Street, Sacramento
What: Sharpen your skates and perfect your triple axel—the Downtown Sacramento Ice Rink returns to the heart of the city! Feel a chill blow down K street as you approach Ali Youssefi Square and be teleported into a winter wonderland at the ice rink.
Click Here for Pricing and Special Events
Magical Christmas Train in West Sacramento (SELLING OUT FAST)
When: December 2-27th (select days)
Where: Sacramento River Train | 400 N Harbor Blvd, West Sacramento
What: Make timeless memories with Santa and his elves aboard the Magical Christmas Train! Tickets include a train ride in a winter wonderland, cookies, hot chocolate, a souvenir mug, and a personal visit with Santa Claus himself. Come dressed in your Christmas morning pajamas for adorable family photo ops. Join us in carols and reindeer games. One thing is certain, there is never a dull moment aboard the Magical Christmas Train!
Get Your Limited Tickets Here
40th Annual Santa Parade Around the State Capitol
When: December 9th
Where: 14th & N Streets along Capitol Park
What: This December 9th at 10:00 am, in the heart of California's Capital City and freshly redesigned Downtown District near Capitol Park, we're celebrating 40 years since the parade began in 1983. You and your family will get to enjoy marching bands, fancy vehicles, youth groups, super-heroes, dog clubs, dance & cheer squads, and fabulous sponsors as our Grand Marshall welcomes over 10,000 moms, dads, and children to one of Sacramento's largest annual family events.
Learn More Here
Winter Wonderland at Fairytale Town  
When: December 9th, 10th, 16th & 17th
Where: Fairytale Town | 3901 Land Park Drive, Sacramento
What: Celebrate the holidays together at Fairytale Town's annual Winter Wonderland! Enjoy a visit with Santa Claus, play in nightly snowfall at 6 pm, and enjoy festive decorations. Join in games and crafts while making magical memories December 9, 10, 16, and 17 from 1-7 pm.
Learn More Here
Special Needs Evening with Santa in Historic Folsom (SPACE IS LIMITED)
When: December 11th
Where: Historic Folsom | Location revealed once time slot is reserved
What: Special Needs Children meet with Santa on this afternoon in a quiet but fabulous location within the Historic District.  Schedule your time (times are rough estimates – we know how it goes) and join us on this fun evening. Kids will also meet Mrs. Claus and a few elves too! Full details on location will be received upon scheduling your child's visit with Santa. This event will be held indoors in a private, quiet setting. Free reserved close parking is available.
Learn More Here
Food & Drinks – 
12 Days of Midtown
When: Now – December 12th
Where: Midtown Sacramento (Various Locations)
What: It's another year of holiday magic in Midtown Sacramento! The 12 Days of Midtown are a curated a delightful list of activities for you to enjoy each day from December 1st to December 12th.
Learn More Here
Miracle Pop-Up Bar – The Snug
When: Now – December 31st
Where: Old Sacramento Waterfront District | 1014 2nd St #200, Sacramento
What: Santa Claus is coming to town and he is bringing the Miracle Pop-up with him!
Get ready for "Miracle On R Street" at The Snug. The halls will be DECKED. The stockings will be HUNG. The plums will be SUGARED. The official Miracle cocktails will be POURED. The collectible mugs will be YOURS.
Learn More Here
Holiday Weekends at Old Sugar Mill
When: December 9th, 10th, 16th & 17th
Where: Old Sugar Mill | 35265 Willow Avenue, Clarksburg
What: Join the Old Sugar Mill as we kick off a month-long celebration of "Holiday Weekends at the Wineries" with live music, food trucks, and vendors!
Purchase Your Tickets Here
Giving Back – 
Sacramento SPCA's 6th Annual Jingle Bell Pup Crawl
When: December 9th
Where: Truitt Bark Park | 19th and Q Streets
What: Join the Sacramento SPCA and partnering Midtown businesses to celebrate the Pawlidays by giving back to the animals while you sip, savor, and shop this holiday season! On Saturday, December 9th, from 12:00 p.m. – 4:00 p.m. check in at Truitt Bark Park for your map, jingle bells for your pup(s), photos with Santa Paws and other holiday giveaways. Enjoy drink & food specials, shopping discounts, and holiday activity stations at each Pup Crawl stop.
Get Your Tickets Here
Santa Hustle in Roseville
When: December 10th 
Where: Vernon Street Town Square | 311 Vernon Street, Roseville
What: Thousands of Santas will hit the streets of Roseville during the Santa Hustle 5K, Half Marathon, and Kids Dash. Runners and walkers alike are warmly invited to join this magical event, which begins and ends at Vernon Street Town Square.
Register Here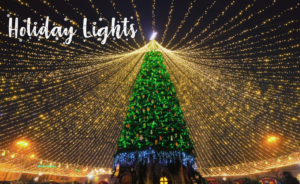 Wondering where you can catch a dazzling neighborhood light display this year? Check out some of our favorite, over-the-top holiday light displays in and around the Sacramento area!
Holiday Light Displays: Neighborhood Edition
East Sacramento's Fab 40s Christmas Lights (Neighborhood Lights Display): Grab your hot cocoa and bundle up while you admire this classic, established East Sacramento neighborhood (from 40th to 49th, between J and Folsom) for its beautiful homes and brilliant light displays. This neighborhood is transformed into a winter wonderland during the holiday season with lights and garlands draped around the tree-lined streets. You can even hire Top Hand Ranch Carriage Company and take a carriage through the Fab 40s with up to 20 people or peddle through the streets with Sac Peddle Brew Bikes Fab 40's Light Tours.
Dovewood Court in Orangevale (Neighborhood Lights Display): Talk about going all out! For over 35 years, thousands of people have flocked to Dovewood Court to experience the extravagant holiday lights and decorations each year. As if this iconic cul-de-sac couldn't get any more recognition from residents and visitors, it even gained the attention of Mariah Carey, the Queen of Christmas herself. If Mariah Carey talked about it, you know it must be worth checking out! Bundle up and take a stroll through the court on foot or enjoy the decked-out halls from the warmth of your vehicle. Consider bringing a few non-perishable food items with you to donate as the Food for Families charities will be collecting donations.
Pebble Creek Christmas Lights in Rocklin (Neighborhood Lights Display): Visitors trek from miles around to see this very fun and family-oriented Christmas light extravaganza that includes hundreds of handcrafted characters from your favorite shows, both old and new. A popular and classic Rocklin holiday tradition. Stroll through the neighborhood on foot or bundle up in the car and roll down the windows for an impressive display of lights! Note: Weekdays are best as weekends are extremely crowded.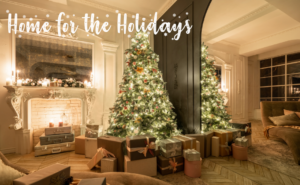 Want to wrap up the year in style? Here are some of the top ways to deck your halls for the holidays according to expert designers.
Glass Ornaments:
One big trend designers are "cozying" up to this year is glass. As Ashley Macuga of Collected Interiors explains, "Glass inherently is a demonstration of effortless elegance. As an art form, it plays with reflection more than any other medium—enhancing and refracting the light produced from Christmas tree lights and warm taper candles, which are mainstays of traditional holiday decor."
"The transparency of glass provides a weightless contrast to the heaviness of more ornate decor often used to adorn coffee tables and banisters. We also love the delicate shapes, translucent colors, and handmade textures of artfully created glass ornaments…adding touches of magic to anywhere that it is placed," says Macuga. In addition to your Christmas tree, consider placing glass ornaments in bowls for effortless decor. Also, think glass candle holders and decorative bowls.
Mixed Metallics for a Modern Twist:
Move over traditional red and green! This year, we're seeing a surge in popularity for mixed metallics like gold, silver, and copper. Incorporating these modern metallic tones into your decor can add a touch of elegance and sophistication to your festive space. Bethany Adams of Bethany Adams Interiors embraces the glitz and glam of the holidays with these metallics. "Brass and chrome decor will have staying power beyond the holiday season—simply change up the styling. A spray of holly in a brass vase can easily be swapped out for cherry blossoms come spring," says Adams. In need of some inspiration? Check out these Starburst Taper Holders from West Elm or these String lights from Anthropologie.
Warm Colors:
Add instant warmth to your home by incorporating warm tones and colors. "The use of color…like blush, which is undoubtedly warm and looks beautiful when combined with the traditional gold, silver, and jeweled tones of the season," says Macuga. "It's a stark contrast to the cool, chilly temperatures of the outdoors." Think rustic glam ornaments and blush glass vases.
Minimalist Winter Wonderland:
Embrace a minimalist approach to holiday decor by opting for a winter wonderland theme. Keep things simple with white and silver accents, focusing on clean lines and a clutter-free aesthetic. This trend is perfect for those who prefer a sleek and contemporary look for the holidays. "This year I foresee a more understated use of decor. Less bold 'green and red' combos and more muted greenery along with moody neutrals," says Laura Williams of ATX Interior Design. This linen runner from Crate & Barrel and Clemente bowl from Lulu and Georgia tie in nicely with the minimalist trend.
Wishing you and your loved ones joy, good health, and holiday cheer this Christmas season!