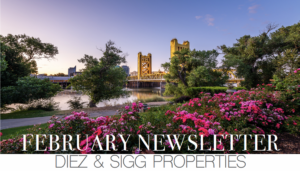 With all of the heart-shaped candy and Valentine's Day cards appearing everywhere, it's a total giveaway that February is in full bloom. And while this may be the shortest month of the year, it's also packed with an exciting line-up of love, festivities, and of course, football. That's why we're sharing our top picks for the best places in town to cheer on your favorite team this Super Bowl Sunday. We also take a look at Valentine's Day (which is just around the corner) and ways that you can celebrate with loved ones and friends. Last but certainly not least, we dive into the current real estate market to see what's in store for 2022.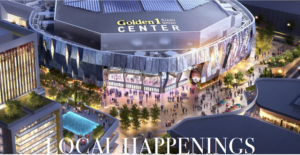 Love is in the air… and the Greater Sacramento area is gearing up with a sweet offering of events for people of all ages. Click on the links below to learn more.
Sacramento Kings 2022 Schedule
Front Street Carousel & Waterfront Wheel in Old Sacramento
February 10: Sacramento SPCA Benefit at Elliot Fouts Gallery
February 10: ArtTastes: Chocolate @ the Crocker
February 10: Galentine's Passport Night in Old Folsom
February 12: 2022 Japantown Lunar New Year Festival
February 12: Second Saturday at Archival Gallery
February 12: 2nd Saturday @ The Art Studios "Love the Art"
February 12: Fair Oaks Historical Society Soup Night
February 12-13: Besties and Bubbles Sip n' Shop
February 13: Sacramento Antique Faire
February 14: Love Hurts – Valentine's Cabaret @ The Sofia
February 14: Valentine's Day @ WHIRED
February 14: The Firehouse: Amuse Bouche Valentine's Dinner
February 14: Valentine's Day Carriage Rides at El Dorado Hills Town Center
February 14: Valentines Day: Laughs & Crafts @ Out of Bounds Craft Kitchen and Biergarten
February 17-21: 40th Anniversary of Disney on Ice
February 26: Bella Vista Marching Band and Color Guard Crab Feed fundraiser
February 27: Bridal Showcase @ Cal Expo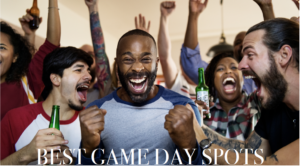 This Sunday, February 13th is Super Bowl Sunday and if you're like us, you'll be watching the big game between the Los Angeles Rams and the Cincinnati Bengals. Lucky for you, Sacramento has all of the best spots for you to experience the game on multiple screens with delicious food and a great atmosphere! Below are our top five picks.
Public House Downtown: Experience the game on 25 HD TVs with 60 beers on tap! They will also have bar seating and standing room that is first come first serve or you can reserve a booth to make sure you get the best seat in the house! Reserved seating begins one hour before kick-off. Reserve your table here.
Republic Bar & Grill: Located right across from the Memorial Auditorium, Republic Bar & Grill is another great spot to have a beer (or two), and watch the big game. They have 12 taps of local craft beers, a full cocktail bar, and 16 HD TVs — not to mention an American-inspired menu with mouth-watering sliders, sandwiches, and wings.
Henry's Lounge: You can't go wrong by paying a visit to Henry's lounge, located in Midtown Sacramento. This full-service bar and grill will be serving brunch all morning starting at 9 am. There is no cover fee but be sure to grab a seat early because it's first come first serve. Try their sports-themed specialties such as their Corner Kick margarita while you're watching the game!
Field House Sports Pub: With over 28 taps of rotating craft local and favorite beers, 17 HD TVs, an HD projector, and a full menu featuring classic takes on bar food, this sports pub is an ideal place for your Super Bowl hangout. Seating is first come first serve.
Sauced BBQ & Spirits: Last but certainly not least, check out Sauced BBQ & Spirits for some good old-fashioned, authentic BBQ with classics including sliced brisket, pulled pork, ribs, and chicken. Oh, and don't forget the sweet honey cornbread, mac n' cheese, and crispy fries. With plenty of flat screens and a fun and social environment just across the street from the Golden 1 Center, you won't be disappointed.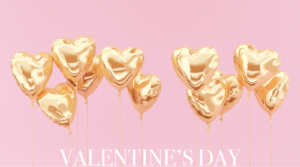 This year Valentine's Day happens to roll around on a Monday. If you're opting to celebrate this holiday in the comfort of your own home with your favorite ladies or that special someone, then we've got you covered with our favorite appetizers, mains, and desserts…because the key to anyone's heart is food right?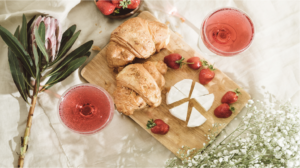 Fall in Love with These Appetizers: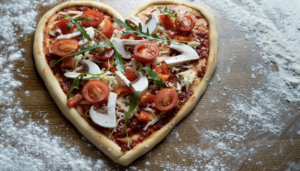 Heat Things Up With These Beloved Mains:
Sushi Stacks: You don't have to be a sushi pro to make these homemade sushi stacks, which are packed with avocado, shrimp, cucumbers, and rice, and drizzled with spicy mayo. Not only are they delicious, but they're also a great way to impress your "soy-mate".
Heart-Shaped Pizza: Celebrate love with these adorable heart-shaped pizzas. This recipe takes a few shortcuts with store-bought pizza dough and sauce but it's safe to say that your loved ones will still see this pizza as a labor of love.
Lady & The Tramp Spaghetti & Meatballs: Nothing screams "that's amore" like homemade pasta! Remember that famous spaghetti scene from Lady and the Tramp? We found the perfect copycat recipe. You can thank us later as your special someone gazes at you adoringly while you share this delicious plate of spaghetti and meatballs.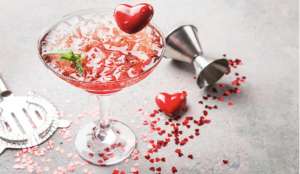 All You Need is Love (And a Cocktail or Two):
We're head over heels for these Valentine's Day cocktails and drinks. Each one features shades of pink, red, or chocolate!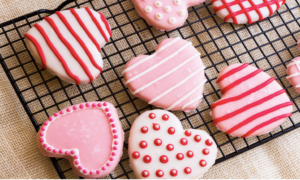 Date Night Worthy Desserts: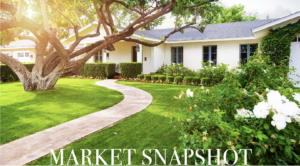 Thinking about listing your home? According to Realtor.com, with buyers eager to purchase a home before mortgage rates climb even higher, now may be the perfect time. Read the full article here.